Marc Seguin, Executive Director
This email address is being protected from spambots. You need JavaScript enabled to view it.
Marc and his family recently relocated to Nova Scotia from Ontario. He brings with him many years of experience in municipal recreation leadership positions, intergovernmental relations, a strong background in fundraising and financial management, facility development, and direct support to provincial recreation organizations.
Graham Mounsey, Program Manager
This email address is being protected from spambots. You need JavaScript enabled to view it.
Graham moved to Nova Scotia from Edinburgh, Scotland in late Summer of 2018. After graduating with a BSc (Hons) in Applied Sport Science at The University of Edinburgh, Graham began a journey in sport and recreation working initially with the governing body of basketball in Scotland. Graham then switched to skiing and snowboarding working with Snowsport Scotland for almost 5 years helping to build participation, develop the workforce amongst clubs, and run a series of Alpine and Freestyle events. In amongst this Graham has conducted work with UK Sports projects in Zambia as well as with the International Projects department of The Edinburgh International Science Festival.
Robyn Morris, Digital Media and Communications Manager
This email address is being protected from spambots. You need JavaScript enabled to view it.
Robyn graduated (first ever virtual ceremony thanks to COVID) from Mount Saint Vincent University in 2020 with a Bachelor of Public Relations and a double minor in marketing and psychology. She also has a certificate in Applied Communication Arts from NSCC, allowing her to strategically pair creative design with written strategy to be her most creative self!
Growing up in Halifax, NS she has been a competitive highland dancer, cheerleader, and fitness competitor and has also enjoyed doing ballroom dancing and salsa. Currently, she does pole fitness where she loves the acrobatic aspect and challenge and hits the gym every morning for her 5:45 am class. Growing up with recreation has shaped her into who she is today, allowing her to feel her best psychically and mentally and giving her the skills to aid her in her professional career.
She loves pulling inspiration from her surroundings. You can often find her near the ocean, or wandering one of our many trails and parks, usually with a camera and coffee in hand and always with a sparkle.
Heather Beaton, Recreation Development
This email address is being protected from spambots. You need JavaScript enabled to view it.
Heather found her passion for community recreation while studying Therapeutic Recreation at Dalhousie. After graduating in 2017 Heather worked in a youth and community development capacity with the YMCA. She currently also works with Positive Action for Keppoch Society in a programs and inclusion capacity. Heather is an active member of the community volunteering coaching track and field, chairing the Pictou East and Central Community Health Board, and with Big Brothers Big Sisters.
In her free time, Heather loves everything outside, skiing, biking, hiking, camping and running!
Jillian Anderson, Financial Coordinator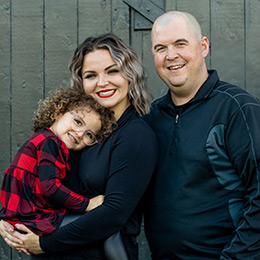 Jillian along with her husband, Jonny and daughter Jovie live within the HRM and enjoy all that Nova Scotia has to offer by leading a very active lifestyle.
Jillian is a talented professional and wears many hats. She is a mom, an Accounting Professional, a Fitness Instructor and a CPA student. She has been in the world of Finance/Accounting/Business for 14 years and brings a lot of great experience to RNS.
Jillian is excited to take on this position as an accounting professional, but also as someone who is passionate about health and wellness, and mental health advocacy. Jillian, like many of us, has been working from home for the past two years and is excited to be in the office again for a few days a week to share coffee and morning chats!
Fawn Logan-Young, Equity & Anti-Racism Coordinator
This email address is being protected from spambots. You need JavaScript enabled to view it.
Since leaving Recreation Nova Scotia's Communication Assistant position in 2018, Fawn returned to university, later becoming Parks Canada's 2021 Youth Ambassador. There, she worked for the Federal Communications and Outreach Team, promoting outdoor recreation, wellness, and diversity.
Fawn is in the final year of her Social Science degree, majoring and minoring in Political Science and Cultural Anthropology at the University of Ottawa. On the side, Fawn pursues an initiative she started in 2017 called Different Rooute, which aims to connect youth with the outdoors, themselves and their community. Stemming from this initiative, Fawn introduced a personal blog in 2019. As a result of building her portfolio, Fawn now writes seasonal columns for Our Children Magazine in the HRM, topics ranging from outdoor etiquette to how to address social issues with children.
Fawn looks forward to her year contract with Recreation Nova Scotia and is ready to continue helping organizations make progressive changes to their framework.
Alan MacKeigan, Recreation Education Coordinator
This email address is being protected from spambots. You need JavaScript enabled to view it.
Originally from Cape Breton, NS, Alan graduated in 2015 from Saint Francis Xavier University with a bachelor's degree in Kinesiology and has recently graduated fron NSCC's 2-year Community Recreation diploma program after completing his internship with Recreation Nova Scotia.
In his free time, Alan can be found bouncing a basketball, swinging a golf club, or enjoying the outdoors with friends and family.
Claire Steele, Events Coordinator
This email address is being protected from spambots. You need JavaScript enabled to view it.
Claire graduated from Dalhousie University in May of 2023 with a Bachelor of Science in Recreation and a Bachelor of Management, with a certificate in Interdisciplinary Management, after completeing her internship with Recreation Nova Scotia. Claire has experience facilitating hockey, soccer, and all sport programs for youth, as well as experience being a recreation summer camp leader and volunteer female hockey coach.
In her spare time, Claire enjoys going on hikes and walks, with her friends and family and searching for sea glass on our beautiful NS beaches.